Well traveled Celebrity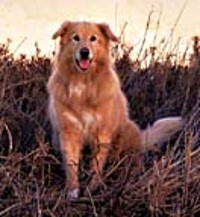 In 1982, frustrated and annoyed owners dumped Shandy, a Golden Retriever mix puppy, at their local shelter. He was "too much trouble" and rather than seek help, they looked to another dog rather than work with this pup. Sapir Weiss, a professional dog trainer, and his wife Jane, sought a dog as a family pet. Sapir's vision was something regal like their purebred German Shepherd, Tamarac. Instead, Shandy's charm proved irresistible, and he rode home with them. Initially, Shandy seemed to prove his former owners' opinion sound. His exploits are well remembered. But maturity and consistently patient training methods eventually paid off, and Shandy settled in.

Soon after, Sapir and Jane went to live in Israel. Receiving a call asking for a dog suitable for television, Tamarac was chosen. But then, Shandy auditioned too and stole the show. As Shteker, he appeared in a series of government commercials on energy conservation. After closing refrigerator doors, turning off lights, and more, his costar would ask, "Do you understand, Shteker?" This phrase quickly became the Israeli equivalent of "Can you hear me now?" Shandy was seen every day on TV and appeared in newspapers, magazines, even bumper stickers. His earnings put him in a 65% tax bracket. During an illness, national media covered his food intake, temperature and condition. Shandy was a national celebrity.

Then, in 1985, Sapir and Jane decided to return to the USA. A massive farewell party at a fancy hotel, attended by the rich and famous, including three ministers of the Israeli government noted Shandy's departure. From one of millions of discarded dogs worldwide to a celebrated personality and icon!

Now Shandy enjoys his retirement years in California, as his family's dear friend and closest adviser.

Shandy's career is certainly unique but his beginnings are not. Everyday in every city and town and county, wonderful dogs are available at your local shelter. Their life is saved and yours is incredibly benefited by adoption and the lifetime commitment.