History of Dog Haiku
Zak and E.D.:Poets Laureate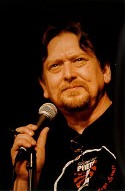 Steve Marsh watched his youth as it unfolded into an interesting life. He wrote poetry, worked in public education and enjoyed life, as life can only be in the MidWest, with his family and two wonderful, typical dogs. Yes, it was the stuff of Lake WoeBeGone. Then, one day, with the same casual aplomb one might expect while sniffing another's crotch (from a dog's point of view that is), Zak suggested that Steve take down some haiku he was considering. Zak, the Rhodesian Ridgeback x Labrador Retriever that shared his home with Steve, had a colorful, checkered past. His vast education and interest in Eastern philosophy made it clear that dogs and haiku belonged together. The simplicity of haiku combined with a Zak's way of finding the complete in the simplest of truths was born. E.D., while not so flamboyant a character, quickly proved her gifts to be as pronounced (who can overlook a gal that is regal while her ears flop when running?).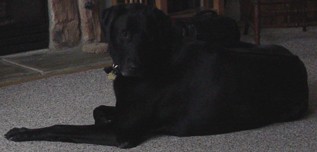 Zac, in the portrait made for inclusion in the flyleaf of all his books.

So now, Steve, who has earned the status of old curmudgeon, squeezes in his interests of poetry and being the Executive Director of Poetry Slam, Inc. while pausing to notate the Zen ramblings of two canines. We are very grateful to them all.

Contemplative moments of E.D. at rest. Named with the initials of Emily Dickinson, her talent comes as a surprise to no one.

The gently crafted haiku that you enjoy on the pages of digitaldog.com were composed by Zak (when signed Z) and E.D. (when signed E.D.). The remaining, signed A, are offered by canine artists unknown, but we hold them in no less regard because of it.

As your interest in dog haiku has no doubt been whetted to a fervor, we offer two suggestions. The first is to obtain the books of dog haiku offered by Zak and E.D. by going to www.thewordsmithpress.com/content/products.php. The other is to consider some of the insights below, offered by Steve, Zak and E.D. on the subject of crafting dog haiku with your canine companion. Get your pen brushes ready! Not only will you be inspired, but digitaldog.com asks that you submit your favorite creations for others to see on our site. Just email to Haiku@DigitalDog.com.



E.D.- what a face...